2 Siete Tortilla Chips at Sam's Club – Gluten Free Finds
Sam's Club buyers are on their a-game in Paleo foods! Wow! I found so many great paleo approved and paleo friendly foods at Sam's this week – these two Siete Tortilla Chips at Sam's are just the tip of the iceberg! I've never even seen individually packaged Siete tortilla chips before! If you follow the paleo diet, or tend to eat gluten free or vegan I think you'll be very happy when you see all the great grain free, dairy free options at Sam's Club! Plus, it's a free membership, so there…grab your membership deal here!
While Costco stepped into the healthy grocery game some time ago, Sam's Club has been slower to come on board…it had been awhile since I'd been to Sam's Club and when I went this week I was blown away by the paleo food choices – some of which blow Costco out of the water! We recently featured a few other Siete products from Costco including: Enchilada Sauce, Tortilla Chips, Churro Crisps and Soft Tortillas.
I was especially happy to see these Paleo Siete Tortilla Chips options at Sam's Club now!! See more recent posts on gluten free finds from Costco and Sam's Club here!
this post may contain affiliate links
Why We Like Them
First and foremost, this brand across the board does a great job with all their products considering they are virtually all vegan, paleo, gluten free and grain free. That's not easy, so props to Siete on making reliably good gluten free foods.
As far as these specific products from Siete, I think their tortilla chips are light and crispy and hold up well to dipping into salsa or a quick zap in the microwave with some cheese for some nachos. My kids notice they are a little different, but still eat them.
If you're wondering if they taste like tostitos, the answer is no. While its a great substitute for dietary purposes, it's probably not going to be a favorite if you're really in the mood for an old school tostito chip.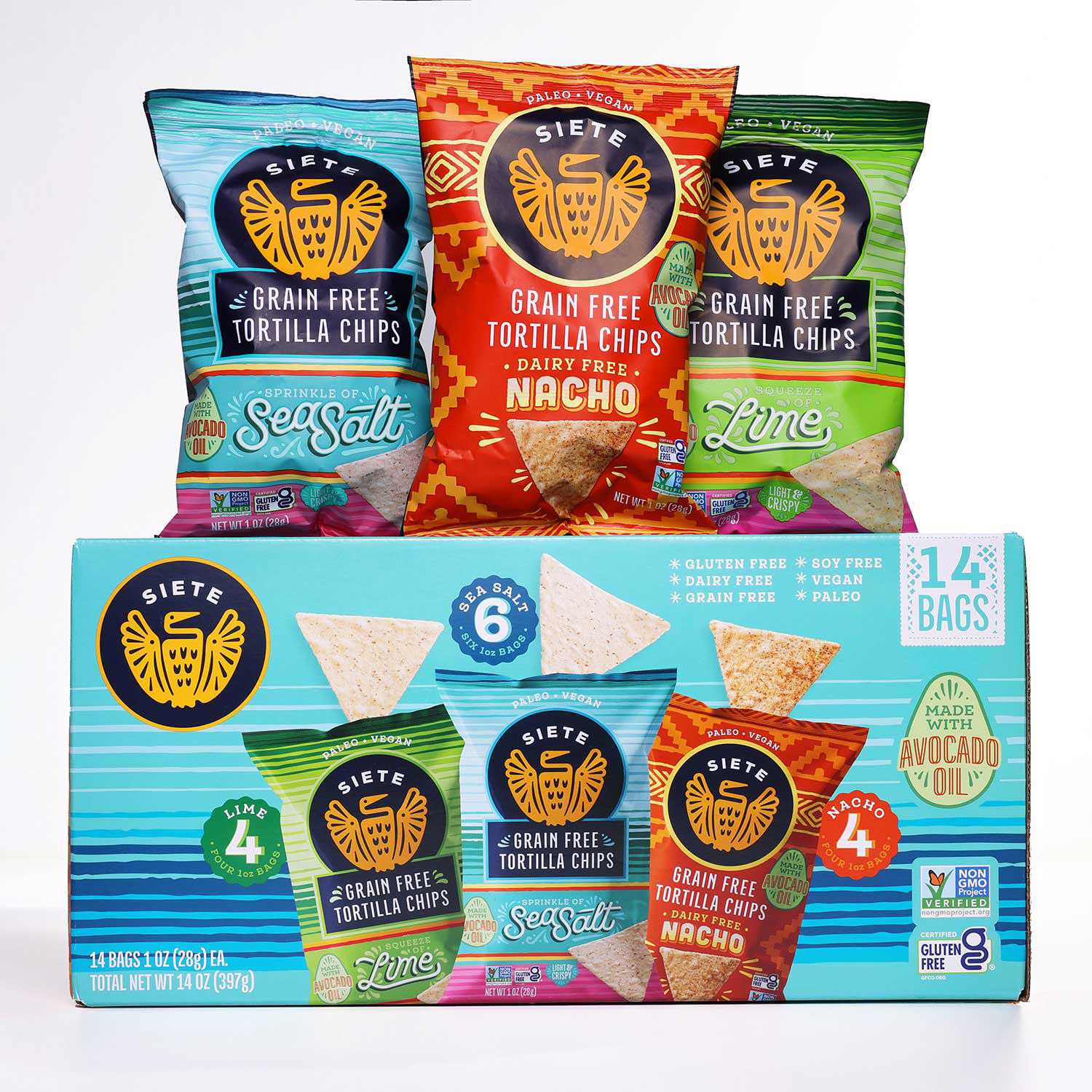 Ok, for starters, I have never seen these individually packed before! LOVE!
These individual packaged variety packs come with lime, sea salt and nacho tortilla chips! They're vegan, grain free, dairy free, and made using avocado oil (no junk oils!). They are limited time only, so grab them while you can! $15.48 for 14ct of 10oz bags.
Product Details:
Tortilla chip variety pack: 4 bags of Lime, 6 bags of Sea Salt, and 4 bags of Nacho
Cassava flour tortilla chips made with 100% avocado oil
Grain-free, dairy-free, gluten-free, soy-free, non-GMO, paleo, and vegan
Pair with homemade salsa, guacamole or queso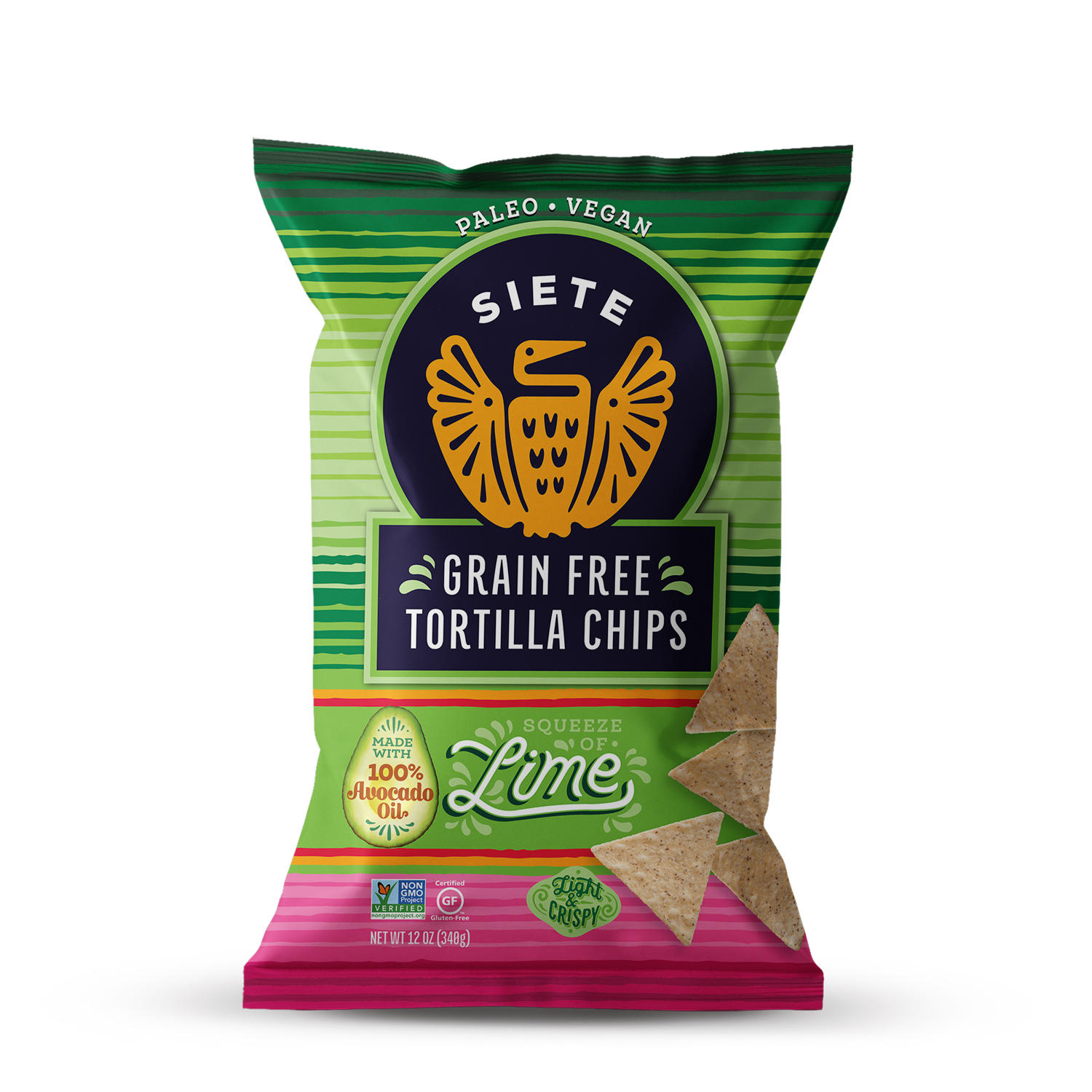 Siete Grain Free Lime Tortilla Chips 12oz Bag
These lime tortilla chips are DELICIOUS. And, they're paleo, vegan, grain free, dairy free….and made without any junky oils.
Product Details:
Cassava flour tortilla chips with a "squeeze of lime" flavor
Made with cassava flour, 100% avocado oil, coconut flour, chia seeds and real lime
Paleo- and vegan diet-approved
Enjoy on their own or pair with homemade guacamole, salsa or queso
More Keto, Paleo, Gluten Free and/or Grain Free Sam's Club Finds
Read Next:
You can now find Thanksgiving fresh whole turkey at Costco in stock – and once…
All opinions expressed on CostContessa are our own. Product features and nutrition information provided on our site is provided to us by third parties, and we do not independently verify its accuracy. Consumers should verify all information. Our content is not intended as a substitute for medical counseling or reading packaging yourself. Please always see actual package information yourself (it can and does change!) and consult your doctor with all questions.