Small Costco Water Table 2023 Online
this post may contain affiliate links
Costco carries two different water tables for outdoor water play – you'll find the larger water table in-store and a small Step2 Rushing Rapids Costco water table 2023 online. Both water tables are from Step2, the smaller, online water table is the cheaper option.
You can find more info on the in-store Costco Water Table 2022 – the Step2 Double Rain Showers Splash Water Table – here.
Online at Costco this year for 2023, you'll find the Step2 Rushing Rapids Water Table – a similar water play table that's a bit smaller, more compact and less expensive than the in-store Costco water table option.
Costco Item Number & Price
The Step2 Rushing Rapids Water Table at Costco.com is Item Number 1586356 and costs $52.99. The price includes shipping and handling.
If you're looking for something cheaper, try this Little Tykes Water Table from Amazon.
More Recommended Step2 Water Table Options
We also love these water tables from Amazon (these are hand selected, not a random ad!) – note all of the Step2 water tables are rated REALLY high!! They are great quality, and we definitely recommend no matter which one you choose!
Our Review of Costco Water Table 2023
Our kids loved water play, we used our water table ALL THE TIME and we think the extra $15 is well spent going for the larger, sturdier table where several kids can play.
That said, if you need something smaller (maybe you have a balcony or a small space for it) then we definitely still think the smaller Step2 Water Table online at Costco is an A+ water table. It comes with a 21 piece accessory kit. We're urban dwellers so we definitely understand needing a smaller size.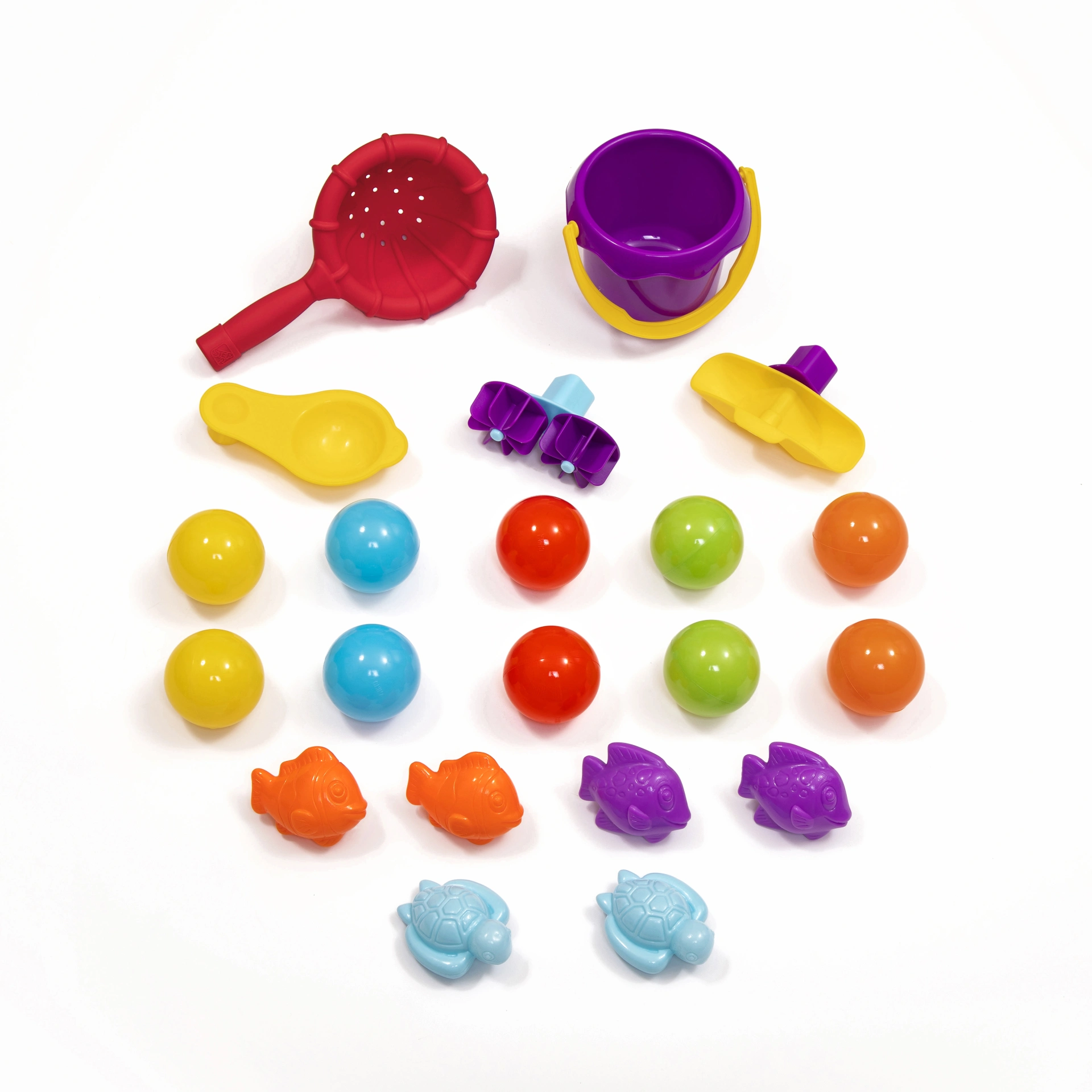 In the end, both water tables are great and come with loads of accessories for pouring, measuring, mixing and splashing!
Customer Reviews
This Step2 Water Table at Costco currently has 4.8 stars with over 200+ reviews on Costco.com!
Water Play & Small Water Tables Under $50
These water tables average around $50 or less and are all well rated, quality toddler outdoor water play options to consider:
Did you buy the Step2 small Costco Water Table? Let us know what you think in the comments! We'd love to hear your experience! Or any tips, advice, or recommendations!
Read Next
Back by popular demand for Spring and Summer 2023 is the Step2 Costco Water Table!…
From The Manufacturer
See product information below from Step2. Head on over to Step2.com to see all of their great water play toys (and more!) for kiddos! We love this brand, it's great quality, fun designs, and reasonably priced!
Make a Splash
Little ones will love making their own waterfall showers! Pour water into the top tray for waterfall action and explore cause and effect play.
Interactive Spinners & Ramps
Activate the spinners and teeter-totter, send water down the ramps by pouring it into the top tray, and watch it fall down! Send the sea critters on a water ride down the ramps too!
Included Accessories
Splish-splash the day away with accessories to flex kids' fine motor skills! Accessories include play balls, sea critter toys, a bucket, scoop, spinner, and side flipper.
Engaging Social Play
This water table's open design, accessories, and multiple play stations allow kids to play together, practicing sharing and social skills.
FAQs
Does Costco have a water table? How much is the Costco water table?
Costco carries TWO water table options. The larger Costco water table costs $68.99 and the smaller water table costs $52.99.
What age are water tables good for?
In general manufacturers suggest water tables for ages 18 mos + but in our experience as early as a child can stand independently to play at the water table is when they can start using it – for my kids that was around 11-12 months. Water tables are great for kids up to age 4-5, and even longer if you get creative (foam, beans, rice, food coloring, dish soap, water paint, etc!).
Are water tables good? Do kids like water tables?
The vast majority of kids like to play with water – it is a sensory experience and when given accessories like measuring cups, spoons, bowls, etc. many kids will play with a water table for a long time. If your child loves to play in the bathtub, that's a good indication they will probably also like a water table.
Does Costco sell a water table with a canopy?
Does Costco sell outdoor water play toys, water tables, water slides, splash pads, inflatable pools, etc.?
Yes, Costco sells all of these items in-store each Spring/Summer – they are seasonal – including water tables, backyard pools, splash pads, water balloons, slip n slides, inflatable water slides and more!
All opinions expressed on CostContessa are our own. Content and information provided on our site is provided for free and is only for informational purposes. Our content is not intended as a substitute for medical counseling or reading packaging yourself. Please always see actual package information yourself (it can and does change!) and consult your doctor.