Update: 10 Foot H2oGO! Family Pool at Costco
this post may contain affiliate links
There are tons of outdoor water play toys for kids coming into stock at Costco right now – and we found this awesome and pretty huge 10-foot family pool at Costco is back in stock now for Spring and Summer 2023! It's from H2oGo! which is known for making pretty good quality water inflatables for a fair price – this pool was also on display in the store and we thought it looked quite a bit bigger than we expected – it's really a decent size little pool!!
We found this exact same pool on Amazon for $42 (at the time of posting – Feb 23, 2023). Worth checking before you buy at Costco. We RARELY find Costco doesn't have the best price…but we're always looking out for you!!
See all our new Costco kids' fun outdoor toys, water table, splash pad, slip n' slide, and more here!
Please always be safe, not sorry…and supervise children of all ages and swimming abilities while using any pool or water play toys!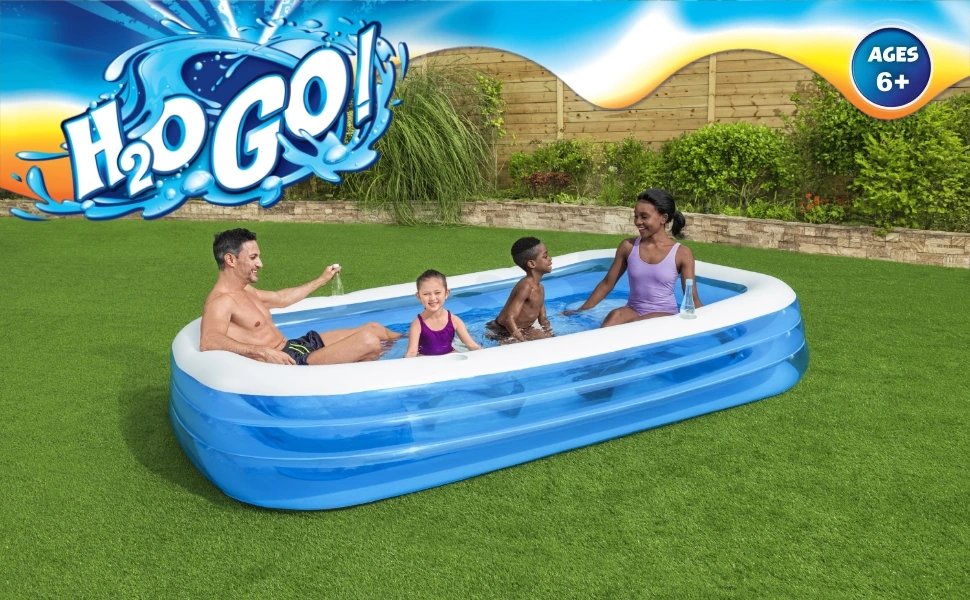 H2oGO Family Pool at Costco Product Features
Inflatable Benches Built-In
Extra Wide Sidewalls with Cup Holders
Water Capacity: 307 gallons
Includes a Repair Patch
Pump Not Included
Pool DImensions: 10′ x 6′ x 22″
Be sure to follow us on Instagram for all our new Costco Finds!
Check out these fun water play toys to get the kids outside and playing in the backyard this summer! From waterslides, to bouncy castles, splash pads and more! Babies, toddlers, kids and teens can get their exercise in and their energy out while having fun in your own back yard!
Costco Item Number & Price
Bestway H2oGO! Family Fun Pool 10 Foot is Costco Item Number 2622028 and costs $44.99. You can also purchase this Bestway inflatable pool from Costco.com.
Fun Fact: This pool stayed the same price from 2022 to 2023!
Look here to find all of Costco.com's Pools, Splash Pads, Water Tables and More.
See More Outdoor Water Play from Costco
In the refrigerated cases in the Costco Bakery, you'll find a super sized 72 oz…
COSTCO TOYS
Loving these Costco toys for kids? So are we, and we have good news! Costco has loads of fun infant, toddler and kids toys both in-store and online. Keep your babies, preschoolers and big kids curious, happy and entertained! From playmats to toy trucks to video game consoles to STEM science educational kits, Costco has everything you need to help your children learn and build valuable motor skills.
Costco's seasonal toys selection runs from late August through December and features loads of well known brands including LEGO, Tonka, Kidkraft, Barbie, American Girl, Jeep, Arcade OneUp, PacMan, NBA Jams, LOL Surprise, Magformers, Hexbug, Pokemon and SO MANY MORE! On a regular year-round basis you can find LEGO, Squishmallows, Spaulding sports, Nintendo, tons of well popular lines of books, and more.
Do you have this inflatable pool from Costco? What do you think? How has it held up? We'd love to hear your thoughts, experiences and opinions! It takes a village to entertain the kids all summer long! What are your favorite backyard activities for kids? Craft ideas? Let us know in the comments!
All opinions expressed on CostContessa are our own. Content and information provided on our site is provided for free and is only for informational purposes. Our content is not intended as a substitute for medical counseling or reading packaging yourself. Please always see actual package information yourself (it can and does change!) and consult your doctor.