this post may contain affiliate links
Summer is coming and these kids want to get outside and play! We found these awesome splash pads at Sam's Club for summer 2022 – these tend to sell out by early summer so we definitely suggest grabbing your backyard pools, inflatables, water slides, splash pads, etc. ASAP! AND…you can still grab the buy a $45 membership and get $45 to spend in-store – which equals a FREE Sam's Club Membership!
You might be wondering where there is a splash pad nearby, but no need to go to a splash pad park when you can get one of these awesome backyard splash pads for the kiddos and use it all summer long – all of them are under $100! We're in love with giant crab splash pool….but they're all super cute! We do also love splash pad parks of course – but we love how easy these home use ones are for hosting backyard playdates.
As always, please supervise children of all ages while using a splash pad…shallow water is a false sense of security…be safe, not sorry for your summer play activities in the backyard!! And check out the giant cupcake backyard sprinkler for summer water fun activity outdoors which doesn't have pooled water 🙂
We've already featured a Step2 water table, Costco splash pad, Whamo-o super slip n slide and an inflatable pool from Costco…so we're super excited to find all these awesome backyard water play toys at Sam's Club too for Summer 2022! And Sam's Club offers CURBSIDE PICKUP – it's pretty awesome – you don't even have to go into the store!!
WOW Sports Inflatable Garden Hoops Splash Pad
Got kiddos who love playing sports? Mix it up this summer with basketball hoop themed water splash pad! Keep those kids active and playing in the backyard – this one is a slam dunk! Sorry for the pun, lol!!!
$79.98 – click on the image to see it on the sams club website!
Product Features
Comes with built in inflatable hoop and basketballs
Heavy-duty PVC
Adjustable built-in 360° sprinkler system shoots water up to 6′
BigMouth Inflatable Giant Yard Blow Fish Splash Pad
This bright and sunny splash pad and perfect for cooling off kids on hot summer days! Love the giant fish theme – and it's nice and big so lots of kids can play on it at once.
$59.98 – click image to see on samsclub.com!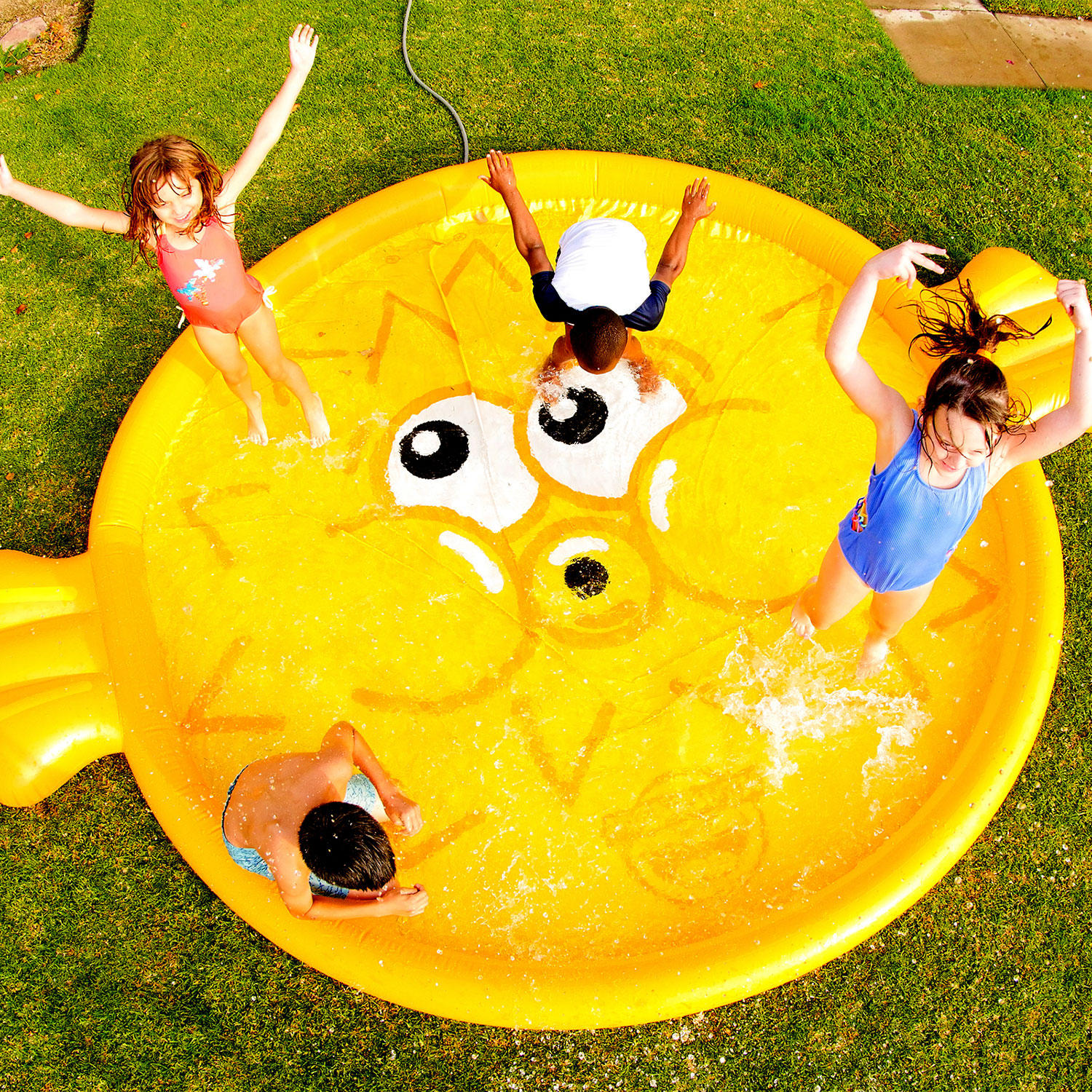 Product Features
8′ diameter inflatable backyard sprinkler pad
Adorable yellow blow fish theme is perfect for all your summer parties
8″ high walls help keep the water inside
Crab Splash Pad
This crab themed summer backyard splash pad is just adorable! Need we say more?? From backyard bbq's, clam bakes, Fourth of July, Memorial Day…this giant crab kiddie pool makes us smile!
$59.99 – Click on the image to see it on samsclub.com!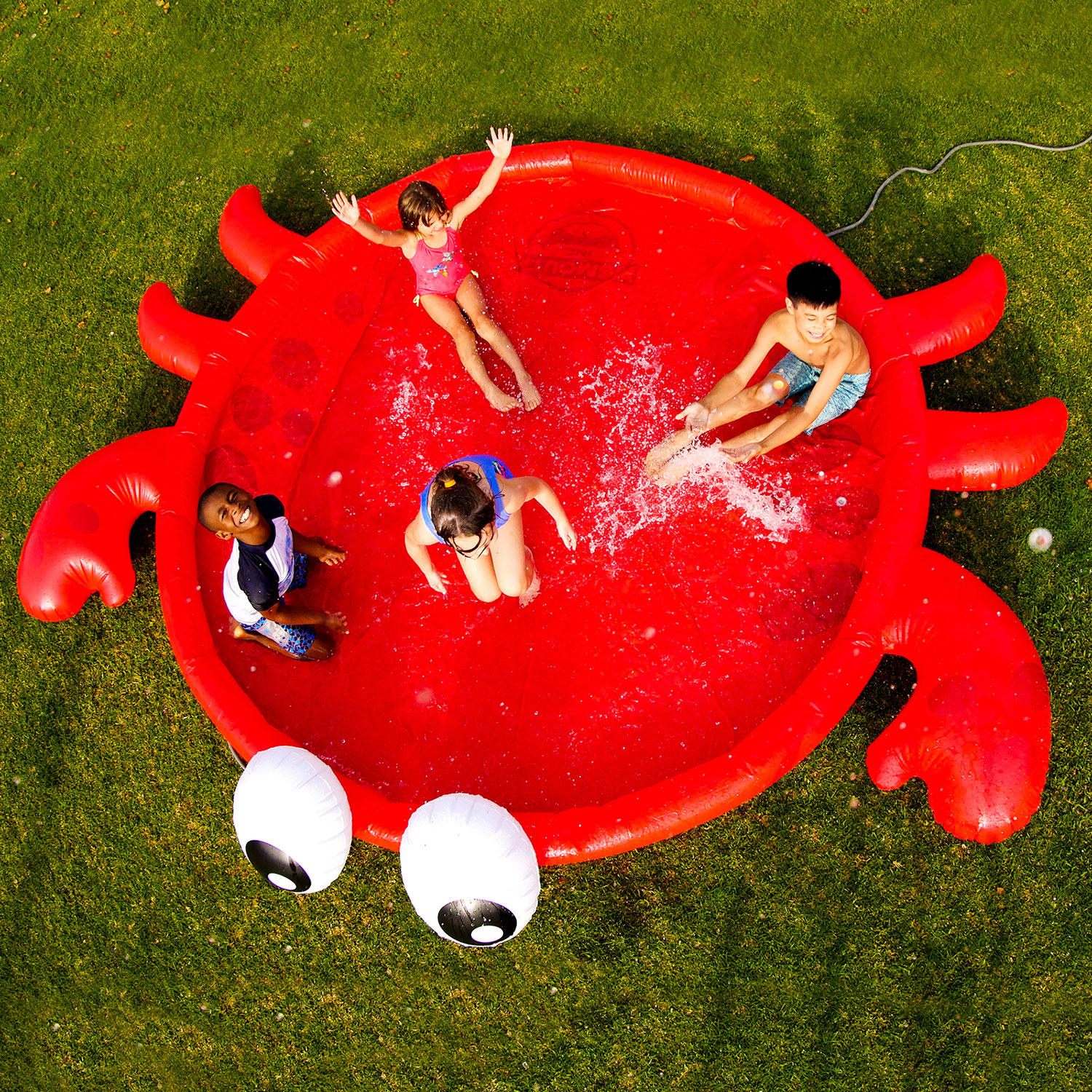 Product Features
8′ diameter inflatable pool
Adorable crab theme is perfect for all your summer parties
8″ high walls help keep the water inside
Giant Splash Pad Inflatable 10 Ft Diameter Wading Pool with Sprinkler by WOW World of Watersports
We love this supersized kiddie pool for bigger kids – it can offer water play for up to six kids.
$49.98 – Click the image below to see it on Sam's Club website.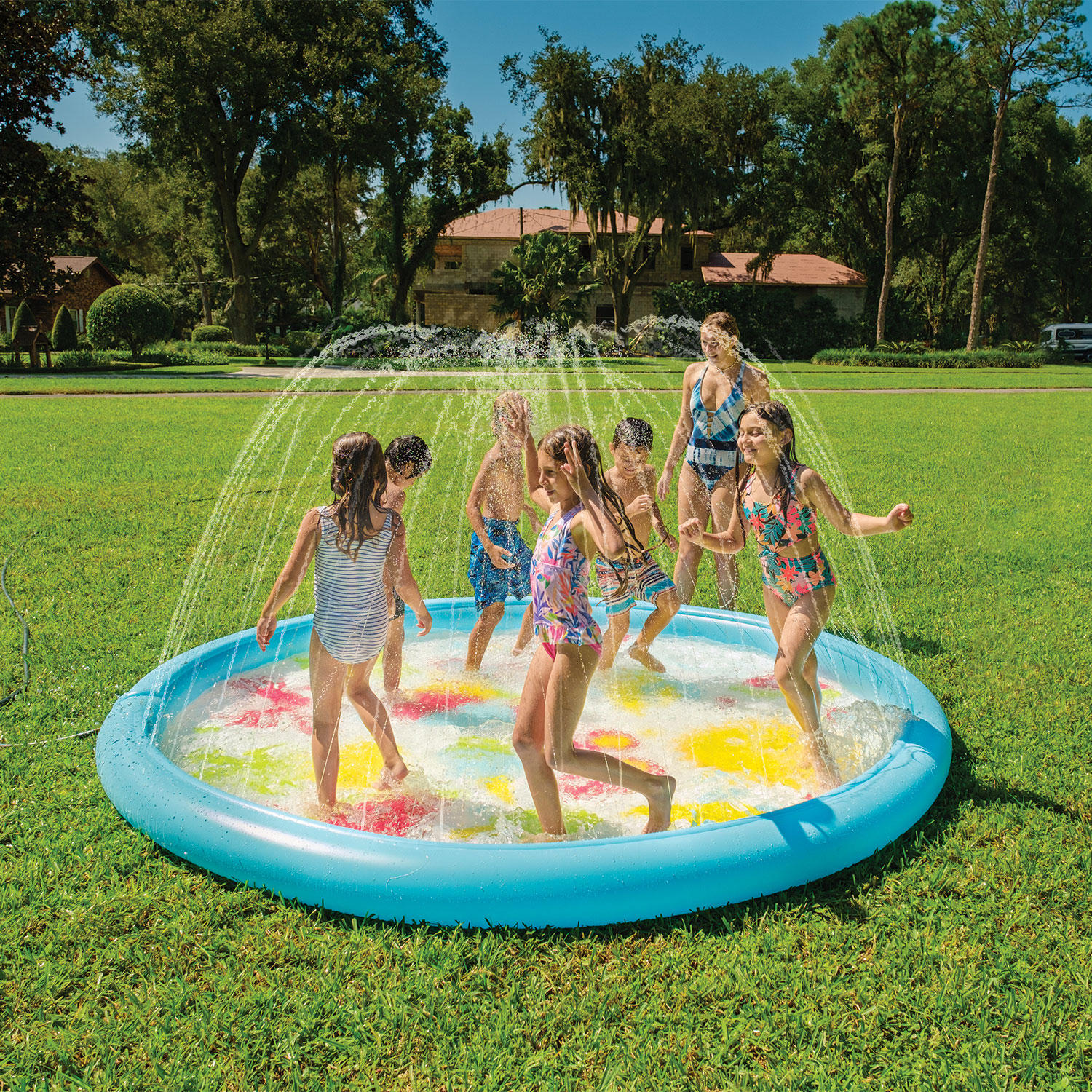 Product Features
adjustable height 360 degree water sprinkler shoots water over 8ft high
lightweight 32 lb.
recommended for kids ages 5 and up
Easy to use and store. Just connect it to your garden hose and adjust water pressure to raise or lower the spray height. After use, unplug the water connection, drain the water from the sprinkler pad, deflate, let dry and fold it up for the next day of fun.
10ft diameter can accommodate up to 6 kids at one time
1 year warranty
Giant Cupcake Sprinkler
This is a super cute birthday party activity for kids – and then use it all summer long to get the kids active, running around, and burning off that energy! We love this themed sprinkler – click on image to see it online at Samsclub.com!
$39.98 – Click on the image below for more info on SamsClub.com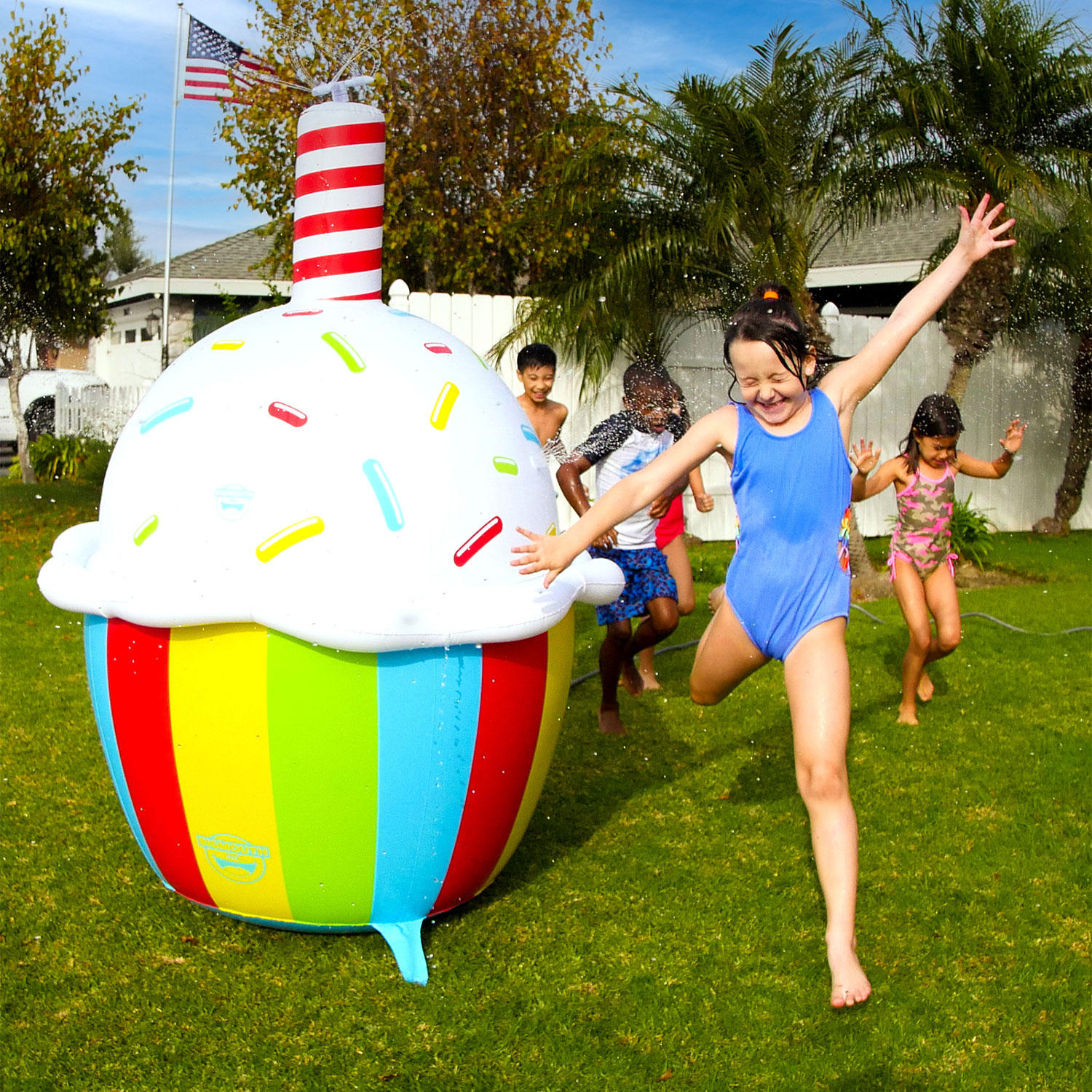 Product Features
6′ tall
Big enough for adults and kids for a huge party
360-degree spinning sprayer on the top
More Splash Pads, Pool Games and Kids Water Play Toys
Why We Love Splash Pads
We love these inflatable splash pads because they are easy to put up and take down, and don't up a lot of space in your backyard. They are fun for babies, toddlers and little kids – and with many children home from school for the summer, we're always looking for good, screen-free kids activities…especially ones that get their bodies moving, and getting energy out…and getting kids outside to play!
Because Splash Pads are a fraction of the size of an inflatable pool, they can also be much more portable. You can take one to a friend's house, or on vacation or just have the ease of choosing the front yard, or back yard, or driveway. These also hook right up to the hose, and you can drain them after, which means easy upkeep, and no testing or balancing the water with any chemicals.
Kids Splash Pad Summer Outdoor Activity Ideas
Ring Around the Rosy
Duck Duck Goose
Hot Potato
Read Next
Costco carries two different water tables for outdoor water play – you'll find the larger…
All opinions expressed on CostContessa are our own. Content and information provided on our site is provided for free and is only for informational purposes. Our content is not intended as a substitute for medical counseling or reading packaging yourself. Please always see actual package information yourself (it can and does change!) and consult your doctor.