this post may contain affiliate links
Today we're reviewing this 3-pack of Nylabone Power Chew Dog Toys from Costco. They were a super good deal, and we normally buy the smaller Nylabones and edible Nylabones for our French Bulldog. I found this Power Chew variety pack of dog toys from Nylabone in the pet food aisle at Costco, and we're going to test them out!
I've never given her these alternative shaped Nylabones before (ours are smaller and look more like a regular chew toy bone). Luna has a VERY strong bite…and by "play" she's really on mission destroy! She can chew through almost anything, and Nylabone Power Chew for dogs are among the best options for her.
Luna is a FAN! And these are just as durable as all the other strong chewer Nylabones for dogs we've had. We give them two thumbs up! This wishbone shaped Easy Hold Bison Flavor definitely took the cake though! She loved that she could prop it, hold with one paw and there was another place to chew! Nylabone Power Chew Variety Pack for dogs for the win!
These are a super deal at Costco. All three of these were under $16!
Nylabone Power Chew Bundle Product Features
Durable chew toys satisfy a dogs' chewing instincts while promoting healthy, non-destructive behavior
Value pack includes three power chews in delicious bacon, bison, and allergen-free peanut butter flavors
Textured ring chew toy with bacon flavor features a unique shape that entertains power chewers
Bison-flavored Wishbone chew toy features three fun chewing ends and helps clean teeth
Giant Peanut Butter Bone includes ridges and nubs that help clean teeth
Made in the U.S.A.
Where to Buy
Nylabone Variety Power Chew Dog Toy, 3-count is Costco item Number #1562571 and costs $15.49 in-store.
You can also grab it on Amazon for around $20 including delivery.
This 3-Pack of Power Chew Nylabones is also available at Costco.com for $28.99 including delivery (so definitely a WAY better deal to find these in-store!). There are several other Nylabone Chew Toy Sets available online at Costco as well.
Nylabone Power Chew Alternative
Sam's Club offers a comparable 3-pack of Bullibones for $14.98 too!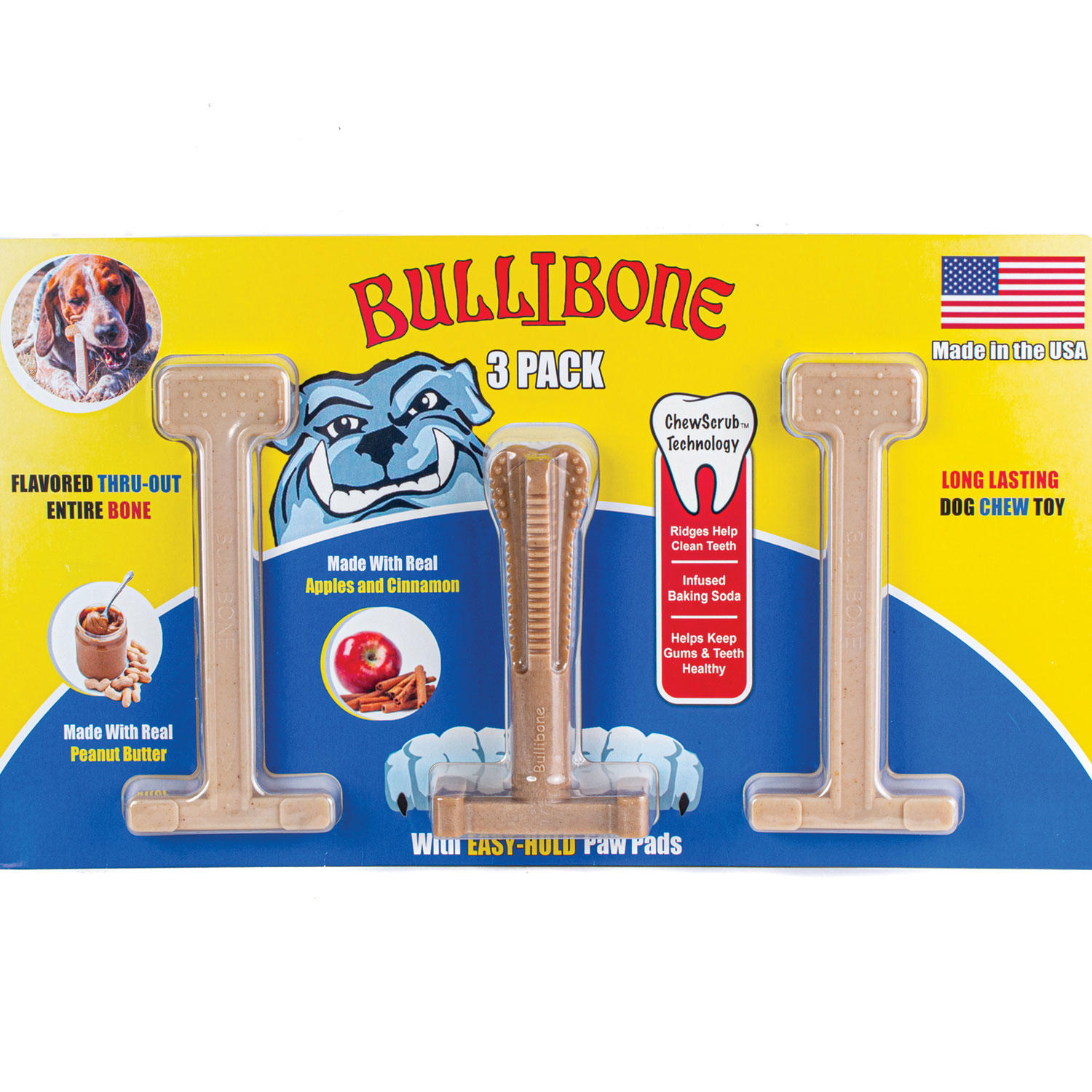 All opinions expressed on CostContessa are our own. Content and information provided on our site is provided for free and is only for informational purposes. Our content is not intended as a substitute for medical counseling or reading packaging yourself. Please always see actual package information yourself (it can and does change!) and consult your doctor.