Miss Jones Pumpkin Bread Mix at Costco
this post may contain affiliate links
Its that time of year, all the pumpkin flavored foods are hitting the shelves! This Organic Miss Jones Pumpkin Bread Mix at Costco comes with three packages to bake pumpkin bread or muffins. It's made with 100% whole grain and you can add your own additional canned pumpkin if you like, it's optional, instructions are provided with and without added pumpkin. There are no artificial colors or flavors.
The Miss Jones organic pumpkin bread and muffin baking mix at Costco is a seasonal item for the Fall – other varieties of Miss Jones Organic Baking Mixes are available in Costco warehouses throughout the year, but the Pumpkin is a Fall flavor…grab it when you see it as it likely won't be back until next Fall.
Miss Jones Pumpkin Bread Mix at Costco Features:
Certified Organic
Vegan, Dairy-free, Soy-free
No hydrogenated oils or trans fats
No artificial colors or flavors
Product Size: 3 x 18.6oz Pouches
How Much Does Each Miss Jones Pumpkin Bread Mix at Costco Make?
Each box of Miss Jones baking mix will make three loaves of pumpkin bread or three batches of 18 pumpkin muffins.
Ingredients
Organic cane sugar, organic whole wheat flour, organic pumpkin (organic pumpkin, organic maltodextrin),  organic spices ( cinnamon ginger, nutmeg, cloves), baking soda, salt
Miss Jones Pumpkin Mix Baking Instructions
Instructions are provided with and without added pumpkin puree, see image below. You'll need 2 eggs, oil, water, and canned pumpkin (if you're using it), and cooking spray for your loaf pan. Makes 18 muffins or one loaf.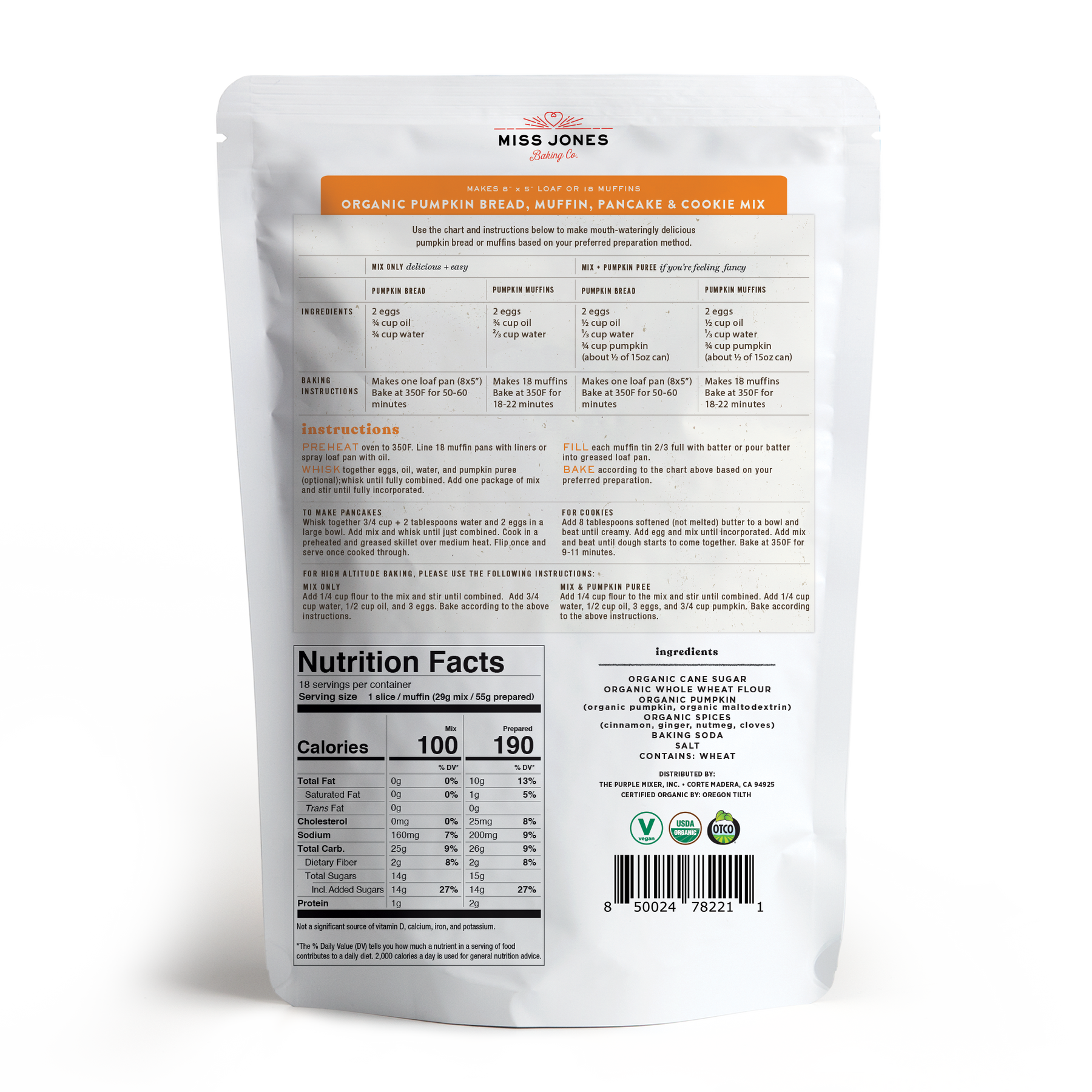 Costco Price and Item Number
Miss Jones Organic Pumpkin Bread and Muffin Mix, 3 x 18.6 Oz is Costco item number 1578757 and cost $9.99 in store at Costco.
If you missed it at Costco, you can find Miss Jones Pumpkin Baking Mix as well as other variations online at Amazon:
Read more about Miss Jones Pumpkin Baking Mix on the manufacturer's website.
Read Next: More New Costco Finds
All opinions expressed on CostContessa are our own. Content and information provided on our site is provided for free and is only for informational purposes. Our content is not intended as a substitute for medical counseling or reading packaging yourself. Please always see actual package information yourself (it can and does change!) and consult your doctor.