What to Make in Your Air Fryer From Costco
Whether you're loving your air fryer or your air fryer needs some love…if you're headed to Costco and wondering what to add to your shopping list that can be cooked (and comes out good!!!!) in your air fryer, you've come to the right place! Air fryers can really turn up the crisp factor…like, a lot. So if you've been wondering what are the best things to make in an air fryer from Costco?? We got you covered.
may contain affiliate links
Don't have an air fryer yet? There are tons of options at Costco from this Gourmia entry level fryer to this 26-quart giant fryer! Not a Costco Member just here for the ideas? We also love the this little powerhouse and this little deals on air fryers at Costco in-store or at costco.com.
Favorite Pre-Made Throw in the Air Fryer Foods from Costco
The easiest recipes for the air fryer are those that are pre-made – while we often bake these, they are infinitely better in the air fryer! Crispier than baking and waaaay healthier than frying…try these Costco finds in your air fryer, and let us know what we missed on our list!
this post may contain affiliate links
Best Meats and Proteins to Make in the Air Fryer from Costco
Meatballs
Tempura Shrimp
Battered/breaded fish
Crispy Wings
Egg Bites
Chicken Nuggets

Just Bare are the crowd favorite, but all are best in the air fryer

Seasoned Drumsticks
Orange Chicken
Teriyaki and Pineapple Chicken Meatballs
Miso Glazed Cod
Breakfast Recommendations from Costco for the Air Fryer
Breakfast Sausage
French Toast Sticks
Bacon
Vegetarian Recommendations for the Air Fryer from Costco
Veggie Bites
Chik'n Patties
Pierogi
Tempura Vegetables
Dessert Recommendations for the Air Fryer from Costco
Favorite Air Fryer Homemade Recipes
Sometimes the ingredients available at Costco are limited so picking everything needed for an entire recipe can be tricky. And sometimes you just need an easy recipe that doesn't have a thousand ingredients (amiright?)…here are some tried and true favorite air fryer recipes that are simple ingredients, quick, easy and delish. Plus, you can grab everything you need while shopping at Costco! Add these to your Costco list!
Easy Pizza Bagels in the Air Fryer
These Air Fryer Pizza Bagels are easy to make and perfect to serve for your family this week for dinner! Kids can participate in making them for an easy make-your-own-pizza night and with just four ingredients, these air fryer pizzas are easier than pie!
Air Fryer Brussel Sprouts with Balsamic Reduction
These Air Fryer Brussels Sprouts are perfectly crispy on the outside, tender, soft on the inside, and so easy to make! Plus they are gluten-free, vegan, low-carb, and keto-approved!
Baked Apples in the Air Fryer
These air fryer baked apples are like individual apple crumbles and are perfect for breakfast or a healthy dessert. There are whole wheat, gluten-free and vegan options too because everyone loves baked apple desserts!
5 Minute Nachos in the Air Fryer
These air fryer nachos are cheesy, crispy, gooey, crunchy deliciousness and they come together in less than 5 minutes, with no preheating needed!
Honey Almond "Takeout" Chicken in the Air Fryer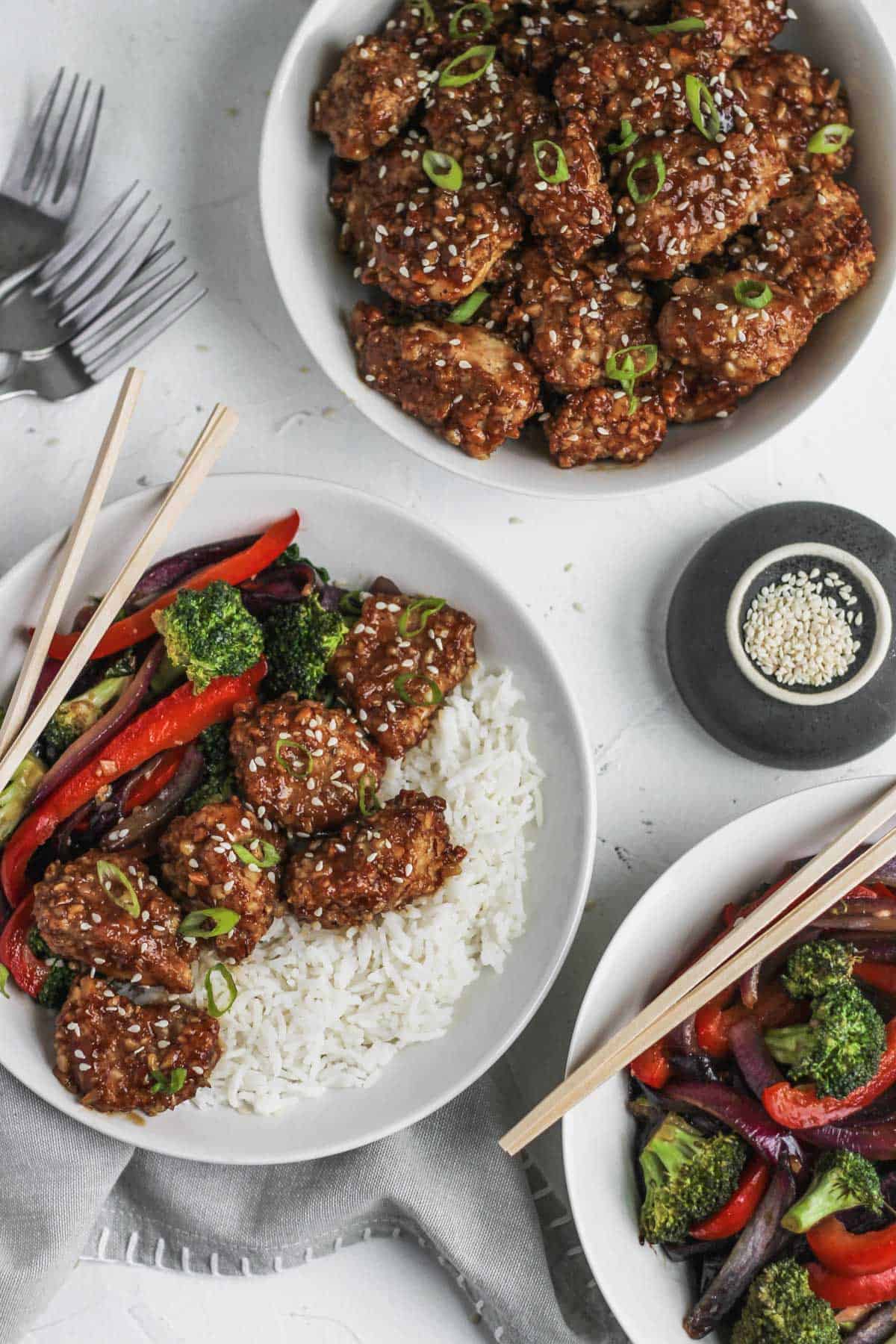 This air fryer almond chicken in honey soy sauce tastes has all the yum factor of takeout honey garlic chicken, and it is super simple, quick and easy to make. Plus it's way healthier than takeout!
Keto-Friendly Pork Rind Fried Pickles in the Air Fryer
These low carb air fried pickles are coat in pork rinds to give them a boost on flavor and crispy texture. Use coconut powder to make them Keto, plus multiple dip choices in the recipe!
Air Fryer Picks from Amazon:
Read Next:
You can now find Thanksgiving fresh whole turkey at Costco in stock – and once…
All opinions expressed on CostContessa are our own. Product features and nutrition information provided on our site is provided to us by third parties, and we do not independently verify its accuracy. Consumers should verify all information. Our content is not intended as a substitute for medical counseling or reading packaging yourself. Please always see actual package information yourself (it can and does change!) and consult your doctor with all questions.